Enjoy it! Please reply and say thank if you like this book to keep this thread alive. Thank you.
Dead Space Multi-5 Repack Skullptura | 3.05 GB
Dead
Space is a bold and often-bloody sci-fi survival horror game that is
designed to deliver the ultimate in psychological thrills and gruesome
action. The Sci-fi action calls for intense gore and character
dismemberment, much like a Hollywood horror movie. Dead Space has been
released for the PC with the age rating "restricted for those below the
age of 18".
The player takes the role of Isaac
Clarke (named after science fiction writers Isaac Asimov and Arthur C.
Clarke), an engineer who must fight his way through a stricken mining
ship infested with hostile, grotesque monstrosities called Necromorphs,
which are human corpses transformed and reanimated by an unknown alien
organism. The game features an 'over the shoulder' third-person
perspective, similar to the gameplay in Resident Evil 4. Players can
upgrade modules, including suit and weapons.
An
incredibly atmospheric and disturbingly gruesome deep-space adventure
that will haunt your dreams and leave you begging for more.
- Deeply engrossing story
- Breathtaking visuals and nerve-wracking audio
- Strategic dismemberment adds an entirely new, satisfying dimension to combat
- Complete lack of a traditional heads-up display immerses you into the experience
- Truly terrifying gameplay keeps you on the edge of your seat.
System Requirements:
- OS: Windows XP/Vista
- Processor: Pentium 4 @ 2.8 GHz or Equivalent
- RAM: 1 GB
- Disk space: 7 GB
- VRAM: 256MB (nVidia GeForce 6800/ATI Radeon X1600 Pro
- Sound Card: DirectX Compatible DirectX: 9.0c
Installation Notes:
- unzip the file
- Run setup.bat
- after the instalation play the game..
DOWNLOAD
HOTFILE
ALL LINKS ARE INTERCHANGABLE
Enjoy it! Please reply and say thank if you like this book to keep this thread alive. Thank you.
Chrome Specforce
Genre: War
Developer: Blade Interactiv
Language: En
Size: 1,76 GB RS HF
In
a not too distant future, the rapid advancement of technology has
allowed man's common dream of colonizing distant planets become
reality. With need of further natural resources and living space, the
human race rapidly expands. Unprepared for the scale of development,
the Federation, overseer for the process of colonizing the universe,
limit the selling of 'terra-forming' permits. Outraged by the decision,
powerful mega corporations begin holding an authoritarian rule on their
very own planets. The full autonomy of these new worlds soon creates a
safe haven for criminal activity and bringing down the ederation is
their number one priority.
For a little more than 12
months the Federation's special division has led an investigation into
the ever more frequent case of government officers being confronted by
criminals, commonly found under the influence of an as yet unknown
stimulant. Based of synthetic enzymes, the substance causes the
fearless, aggressive, trigger-happy and pain resistant hitmen to wreak
havoc, and the problem is now spreading.
Created with
the purpose of ridding the planetary system of global hazards and
crisis situations endangering the Federation's stability, the elite
strike unit Chrome: SpecForce has finally caught a break in the
investigation.
Armed with the latest military technology
in combat, designed with Special Forces in mind, the SpecForce field
agents equip themselves with SPA4 Power Armour, the main element of a
SpecForce field agent's operational equipment and vital to mission
success. Be it assassination, espionage infiltration or sabotage, the
armours systems enhance the efficiency of tactical operations conducted
in enemy territory Dispatched to the planetary system of Estrella to
collect evidence, it quickly becomes clear that a seemingly simple task
leads to an intrigue on a much grander scale.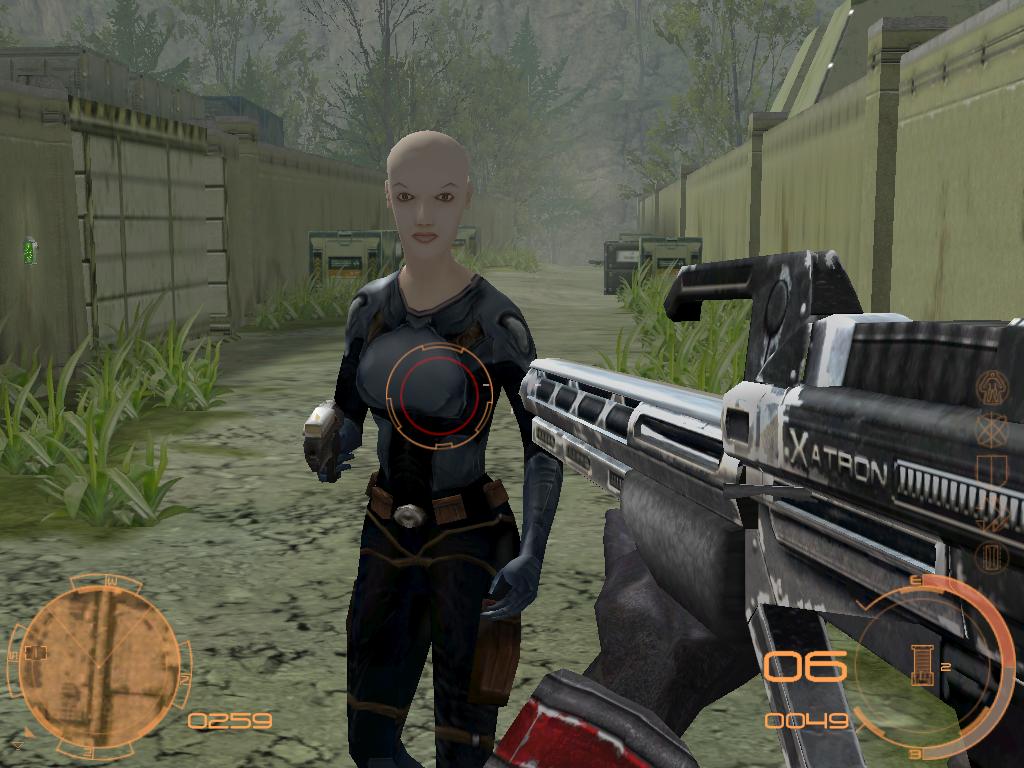 Minimum System Requirements:
System: P4 1.3 GHz or equivalent
RAM: 256 MB
Video Memory: 64 MB
Hard Drive Space: 2000 MB
Other: DirectX Compatible sound card
Recommended System Requirements:
System:P4 2.0 GHz or equivalent
RAM: 512 MB
Video Memory: 128 MB
Hard Drive Space: 2000 MB
Other: DirectX Compatible sound card
Install Note:
1. Unrar
2. Burn or mount with Daemon Tools
3. Install the game, When asked for a serial enter one of the following
4. Copy over the cracked content from the Crack directory on CD1 to your installation directory
5. Play the game
DOWNLOAD
HOTFILE
ALL LINKS ARE INTERCHANGABLE
Enjoy it! Please reply and say thank if you like this book to keep this thread alive. Thank you.
Stupid Invaders-FL
PC Game | Window | English | 2.706 GB
Stupid
Invaders is an adventure that follows Etno and his four friends. They
are trapped with him in a laboratory after crash-landing on Earth. Dr.
Sakarine, an evil scientist has sent a hit man to capture the aliens
for his experiments. This game is filled with "nutty state of art
toilet humor", mostly taken from by Jim Gomez, writer for the Ren and
Stimpy show. There are over 120 locations and 50 characters to meet!
The story is broken down into three chapters, each with unique settings
and environments.
ESRB Rating: T for Mild Animated Violence, Mild Language, Suggestive Themes
Genre: Adventure
Also Available On: PC
Release Date: June 22, 2001
General Features
Cartoon-based graphics with high resolution; comedic cut-scenes; interactive environments; challenging puzzles;
soundtrack contains a varirty of music
Install
1.Mount image CD with daemon tools and install the game.
2.Unrar and copy and aply patch to installation folder.
(When
running Stupid Invaders on Windows 2000/Xp you may encounter crashing
problem at two in the game.Install this patch to correct this.)
3.Play
DOWNLOAD
HOTFILE
ALL LINKS ARE INTERCHANGABLE
Enjoy it! Please reply and say thank if you like this book to keep this thread alive. Thank you.
Games from Reflexive Collection 80 in 1 (2009-ENG)
PC Game | Mini Games | Eng | 620 Mb
Description:
In this fun and entertaining games you can play for hours, and foreign
language proficiency for this is not required. Bright and attractive
game levels, haunting riddles or easy opponent, the system of rewards
and pleasant music create the real fun of the regular gameplay. Play -
do not overdo it.
Year: 2009
Genre: Mini Games
Developer: Reflexive
Publisher: Reflexive
Release: Lamait
Publication Type: piratka
Tablet: there
Language: English
Size: 621 Mb
Features of release:
The collection includes the following games:
5 Spots - Action Ball - Action Memory
Adventure Inlay Safari Edition - Adventure Inlay - Age of Castles
Alien Outbreak 2 Invasion - Aloha Solitaire - Ancient Seal
Ant War - Aquabubble Avalanche - Astrobatics
Ballistic - Bejeweled 2 Deluxe - Big Kahuna Reef
Bubblefish Bob - Bud Redhead - Chessmaster Challenge
Cosmic Bugs - Desperate Space - Digbys Donuts
Double Digger - Diner Dash - Drop 2
Dungeon Scroll Gold Edition - Emporers Mahjong - Enchanted Forest
Fairy Words - Family Feud - Fishing Trip
Fish Tales - Froggy Castle 2 - Funky Farm
Gem Shop-GlowWorm-Hamsterball
Hyperballoid Complete - Icy Spell - Inspector Parker
Invadazoid - Jewel Quest - Jig Words
Kasparov Chessmate - Lemonade Tycoon 2
Machine Hell - Mad Cars - Magic Ball 2
Magic Inlay - Madic Vines - Mahjong Quest
Memory Loops - Oasis - Ocean Diver
Outpost Kaloki - Pacific Heroes - Pharaons Curses Gold
Pizza Frenzy - Poker Superstars Invitational
Professor Fizzwizzle - Real Ball
Ricochet-Ricochet Recharged - Snail Mail
Snowy Puzzle Islands - Snowy Space Trip - Subway Scramble
Swap and Fall 2 - Swarm - Tennis Titans
The Great Mahjong - Think Tanks - Top 10 Solitaires
Trijinx - Tumble Bugs - Twistingo
Varmintz Deluxe - Water Bugs - Wonderland
Word Jong - Word Search Deluxe
Installation instructions:
1. Unzip the downloaded archive
2. Mount (unpacked from the archive) the image with Daemon Tools
3. Set the desired play
4. Prepare to launch the game using the help file (Kak lechit igry)
5. Enjoy the game!
System requirements:
- Operating system: Microsoft пїЅ Windows 98/2000/XP/Vista
- Processor: with a frequency of 266 MHz
- Memory: 64 MB
- Video: class GeForce 4Ti, ATI 7XXX or higher
- Free disk space: 1 GB
- Sound: DirectX 9.0c-compatible sound card
- Management: keyboard, mouse
DOWNLOAD
HOTFILE